FEELING PANAMA
From clear turquoise seas to tropical rainforest and great skyscrapers, Panama is a captivating mix of the historical and the modern, the natural and the manmade, the indigenous cultures and the international.
The eternal summer of this tropical country, which a narrow but remarkably diverse strip of land forming a natural bridge between the North and South American continents, offers an exceptional destination both for living and visiting.
If you are interesting in exotic animals and stunning architecture, you should visit the Frank Gehry Biodiversity Museum on the scenic Amador Causeway. You may explore the magic of historic Casco or visit one of humankind's most important engineering triumphs, the Panama Canal, visiting its museum with interactive exhibits.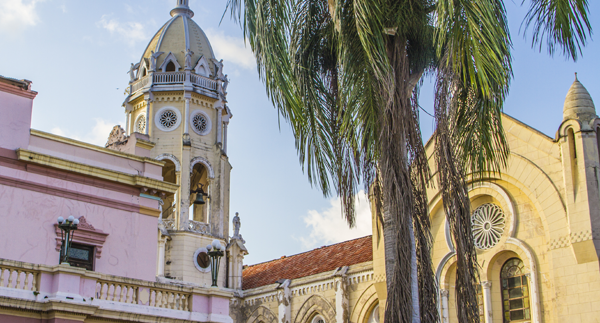 lternatively, you may choose to go shopping in the most luxurious mall in the region, where luxury brand names vie for attention, one next to the other. If you are a golf lover or you simply prefer quiet trip out of the urban sprawl, travel just 30 minutes from downtown Panama City to a designer-course nestled into the jungle. And if you are fisherman , yachtsman or diver, you may feel that you have arrived in paradise.
After appreciating the gorgeous sunsets and the view of the city's spectacular skyline from the Cinta Costera (maritime walk), you should enjoy a delicious dinner at one of the many restaurants around Panama City.
And at the end of the day you could take in a salsa places or feel as if you are in Las Vegas in one of Panama's numerous casinos.