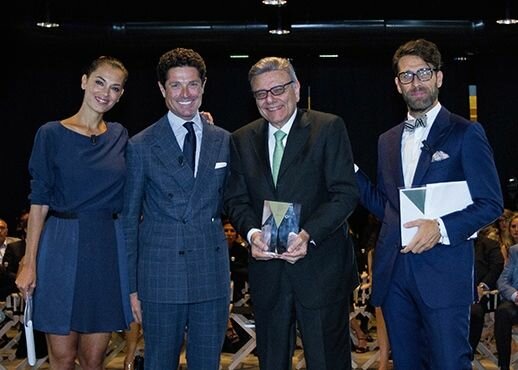 Above: PDE Founding Chairman Eli Izhakoff (second from right), holding the Palladio International Jewelry Award for corporate social responsibility, which he has received from Fiera di Vicenza President Matteo Marzotto (second from left). They are flanked by Italian television presenter Giorgia Surina (left) and Cristiano Seganfreddo.
Eli Izhakoff, Founding Chairman of the Panama Diamond Exchange, has been recognized for his lifetime contribution to corporate social responsibility in the diamond and jewelry sectors by Fiera di Vicenza, the leading Italian trade fair organizer, which bestowed upon him its prestigious Palladio International Jewelry Award.
The award was presented by Fiera di Vicenza President, Matteo Marzotto, at a ceremony in Vicenza in September. Regarded as the jewelry industry's Oscars, the Palladio International Jewelry Awards celebrate excellence in the international premium jewellery sector, recognising achievements in creativity, design, production, distribution, retail, communications, new media and corporate social responsibility. They are named after one of the Italy's most celebrated historical figures, the 16th Century architect, Andreo Palladio, who left an indelible mark on Western design.
In its tribute to Mr. Izhakoff, Fiera di Vicenza stated the following: "In the year 2000, at the height of the conflict diamond crisis in Africa, the leadership of the international diamond and jewellery sectors approached Eli Izhakoff to lead a new organization that would coordinate the industry's campaign to eliminate, from the legitimate trade, diamonds that finance conflict. Over the 13 years that followed, as President of the World Diamond Council and as part of a coalition involving industry, government and civil society, he was instrumental in the formulation, acceptance and eventual implementation of the Kimberley Process Certification Scheme, which reduced to a mere fraction the incidence of conflict diamonds in the marketplace. Through his actions, Mr. Izhakoff engendered an industry-wide understanding that social responsibility is an integral part of the business equation."
The 2014 Palladio Award winners were selected by a distinguished jury, chaired by Gianmaria Buccellati, and including several of the most important ambassadors of the gold and jewellery sector, including Silvana Annichiarico, Director of the Triennale Design Museum; Alba Cappellieri, Professor of Jewellery Design at Milan Polytechnic; Franco Cologni, President of Fondazione Cologni dei Mestieri d'Arte; and Carole Phillips, Curator of the Department of Sculpture, Metalwork, Ceramics & Glass at the Victoria & Albert Museum in London.
Among the other 2014 Palladio Award laureates were the iconic Italian jewelry designer Roberto Coin, who also is a PDE Director, and the exclusive jewelry houses Bulgari and Tiffany's.