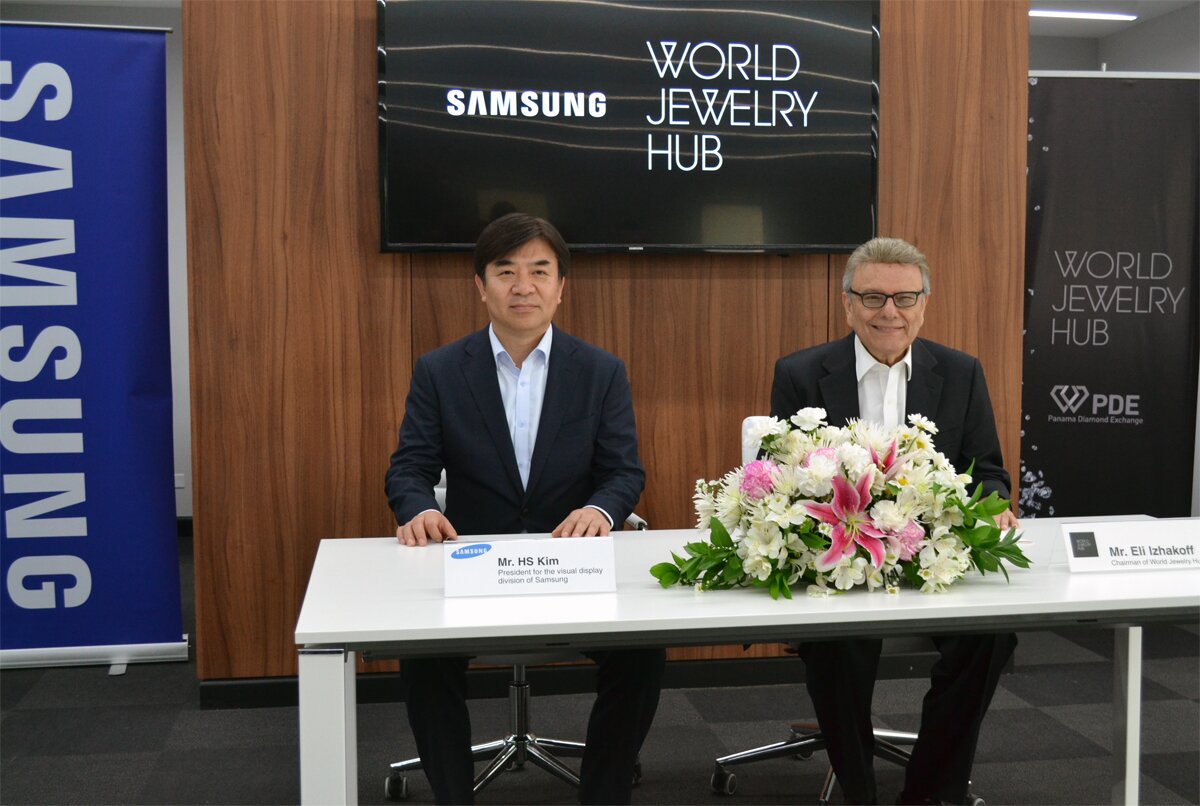 ABOVE: HS Kim (left), President for the visual display division of Samsung, and Eli Izhakoff, Chairman of the World Jewelry Hub, during the signing ceremony at the Panama Diamond Exchange.
Samsung Electronics and the World Jewelry Hub have signed a Memorandum of Understanding (MOU) in Panama City today, pledging to cooperate strategically with the goal of providing added value to both organizations, as well as their to respective clients and stakeholders, and the Republic of Panama.
According to the MOU, the two sides will create a strategic alliance in order to develop and implement projects that provide mutual commercial benefits and encourage loyalty to both brands. They also agreed to develop projects that will serve the interests of local communities and expand the CSR programs of both companies.
Headquartered in South Korea, Samsung is one of the world's largest electronic and technology companies, with products ranging from mobile phone and computers, consumer electronics, household appliances, industrial machinery, digital appliances, media, semiconductors, memory and system integration. In Panama, Samsung has established a subsidiary that supports 24 countries in the Caribbean and Central America, as well as Ecuador and Venezuela, in different product divisions.
"At Samsung we leverage innovation to provide people the power of discovering new ideas, developing products that improve their lifestyles", said Mr. HS Kim, President for the visual display division of Samsung. "It is an honor for Samsung to be able to partner with such an innovative organization, which carrying out magnificent project, for Panama and the world."
Based in the Santa Maria Business District of Panama City, the World Jewelry Hub is the first dedicated jewelry, diamond and gemstone center Latin America, serving as a primary trading point for industry professionals from Central and South America, Mexico and the Caribbean, and an access point to and from the region for the international trade. It is also the home of the Panama Diamond Exchange, Latin America's first and only recognized diamond bourse.
"This is a milestone not only for the World Jewelry Hub, but for the Latin American jewelry and gemstone business as well," said Eli Izhakoff, the WJH Chairman. "It is a tangible demonstration of support from a corporation that in the space of just several years changed the face of consumer electronics, and it is a vote of confidence in the role that we and the Republic of Panama will play in the development of the world's next great jewelry market. Cooperation with Samsung can only strengthen our position."